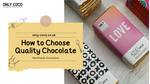 Attention all chocoholics! Are you ready to embark on a tantalizing journey searching for the most exquisite milk chocolate bars that will transport your taste buds to sheer bliss? Well, we've got a treat in store for you to satisfy your cravings. In this mouthwatering blog post, we're diving deep into the world of heavenly milk chocolate bars.
Also, guess what? We're about to introduce you to a chocolatier extraordinaire— Only Coco! 
So, get ready to discover the secrets behind finding the perfect milk chocolate bar with a little help from the master chocolatiers at Only Coco. Brace yourself for a sweet adventure like no other!
How to Find Quality and Affordable Milk Chocolate Bars?
It's not always easy to find the sweet spot between price and value, but have no fear! We've got you covered with some expert tips:
Look for High-Quality Ingredients
If you want a milk chocolate bar that will take your taste buds to heaven, you must ensure the components are top-notch. Only Coco has a truly deep comprehension of this. Single-origin chocolate bars made from the best cocoa beans in the world are their speciality. The result? A rich and distinct flavour that sets their bars apart from the rest. 
Opt for Handcrafted Delights 
Only Coco raises the bar for chocolate making. Every single bar is made by hand with care and precision. The dedication and passion poured into every creation are evident with each indulgent bite. With a tantalizing layer of handmade salted caramel trapped between velvety milk chocolate— the Salted Caramel Milk Chocolate Bar is a real masterpiece. Trust us; you won't want to share this one!
Explore Unique Flavor Combinations
Why settle for the ordinary when you can embrace the extraordinary? Only Coco invites you to experience their Apricot Milk Chocolate Bar. The silky milk chocolate and the tart apricot curd come together in perfect harmony in this divine creation. It's a delightful twist that will make you want more.
Look For Vegan-Friendly Options
Only Coco has a special treat in store for vegans. Using 43% Colombian milk chocolate, the Earl Grey Oat Milk Chocolate Bar is a delectable treat. Besides, it's a smooth combination of gluten-free oat powder and rice powder with a touch of Earl Grey Creme (Ceylon black tea, vanilla pieces, blue cornflowers, natural flavouring). Therefore, with such ingredients in hand, we can say that it's a vegan treat that doesn't compromise on taste or quality.
However, many of us may still be in a dilemma of why limit to Only Coco. Well, yes, indubitably, they offer the best milk chocolate bars, but what else? To clear the air, keep reading! 
Why Choose Only Coco?
Only Coco isn't just another chocolate brand—it's a chocolate experience like no other. Their dedication to finding the best possible ingredients and carefully hand-making each bar guarantees a taste experience that will take you straight to chocolate heaven. With flavours that push boundaries and awaken your senses, Only Coco invites you to embark on a journey of pure indulgence in the best milk chocolate bars.
Moreover, chocoholics are always on the lookout for chocolate that doesn't break the bank without sacrificing flavour. Only Coco understands this, and they offer their exceptional creations at a fair price, making them accessible to everyone who craves a premium chocolate experience. Thus, with Only Coco, you can indulge in luxurious chocolate bliss without breaking the bank. 
Where to Find Only Coco?
If you've been craving chocolate, why not give in? Head over to the Only Coco website, where you can explore their full range of handcrafted milk chocolate bars. You can order the bars you want from the comfort of your own home via their safe online store. Only Coco offers the pinnacle of chocolate experiences— and the time has come to partake.
Wrapping Up!
Chocolate enthusiasts, rejoice! The quest for quality and affordable milk chocolate bars ends here. Only Coco, with their passion for perfection and dedication to the art of chocolate making, is your go-to destination for an exceptional chocolate experience. From the mouthwatering Salted Caramel Milk Chocolate Bar to the innovative Apricot Milk Chocolate Bar and the vegan-friendly Earl Grey Oat Milk Chocolate Bar, Only Coco has something to please every palate. So, treat yourself or surprise a loved one with exquisite chocolate. Remember, life is too short to settle for anything less than the finest milk chocolate bars. So, unleash your taste buds and savour the extraordinary with Only Coco.